Description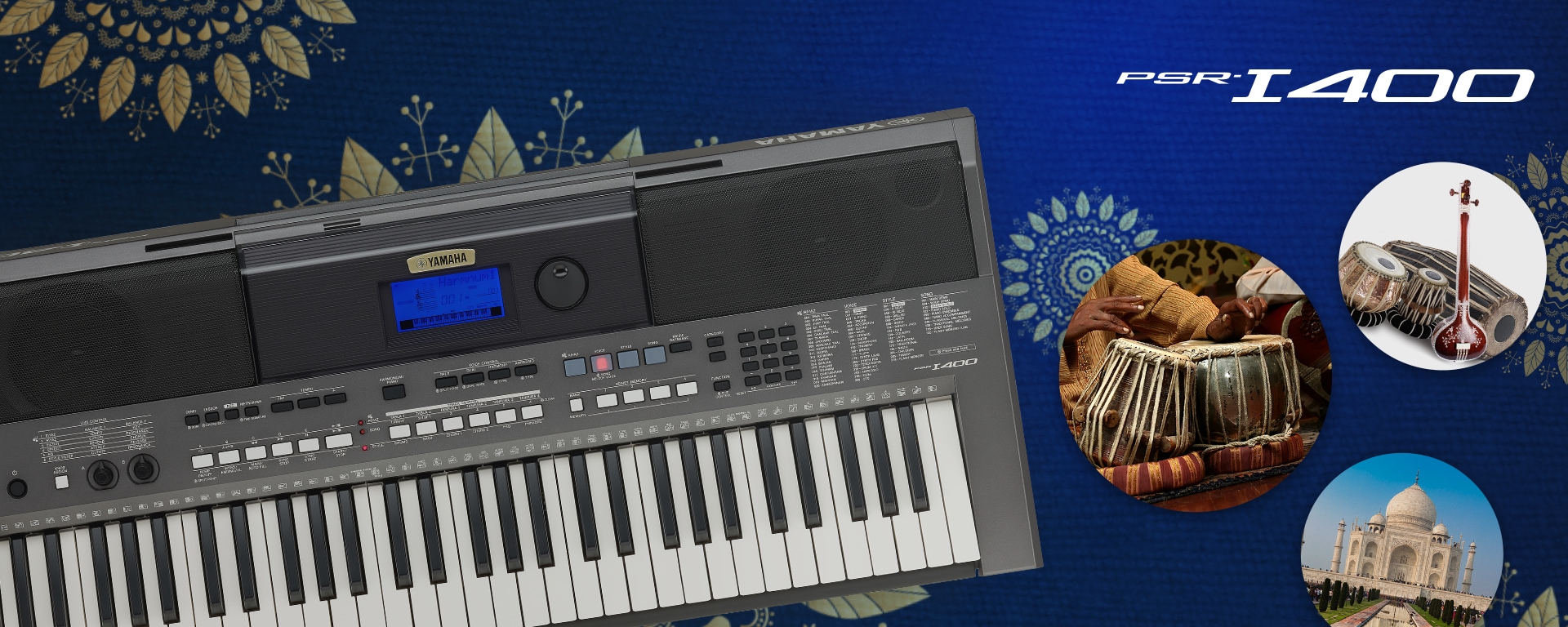 Featuring a comprehensive collection of onboard Indian instruments (Voices) and an auto accompaniment function (Styles) that draws from a broad spectrum of Indian music genres, the PSR-I400 is the ultimate portable keyboard for learning Indian music. It also comes equipped with a number of lesson functions including a built-in Tabla / Mridangam & Tanpura function called "Riyaz," that makes learning to play songs or traditional Indian "Raga" scales a fast and enjoyable process.
The PSR-I400 is the ideal keyboard to enjoy playing and learning a wide variety of Indian music genres.
For learning and playing Indian music
764 instruments, including 30 Indian instruments
218 types of auto accompaniment Styles, including 35 Indian Styles
355 Music Database, including 50 from Indian movies to find the ideal settings.
Riyaz (Tabla / Mridangam & Tanpura) function with 20 Taals
15 Indian Raga scales, 100 Lesson Songs & downloadable Song Book
Touch Response Keyboard
Powerful amplifiers with bass reflex speakers
Pitch bend wheel
Lesson function
PSR-I400 Everything you need for an enjoyable Indian music experience
Playing the PSR-I400 can be a truly enjoyable family affair. An array of essential traditional instrument sounds (Voices) and auto accompaniment Styles make it fun for family members of all ages to play Indian Music, from classic standards to modern hits.
A full-fledged instrument for learning and playing Indian music
The PSR-I400 offers several learning features that make developing keyboard skills a faster, more enjoyable process. We believe the best way to learn and improve is by having fun, and the more your children improve, the greater their commitment to continuing to learn and enjoy playing music.
Enjoy learning music
An extensive library of authentic sounding Indian instruments
Anyone who wants to play traditional Indian songs or modern Indian movie songs knows how important authentic-sounding instruments are. The PSR-I400 has Voices for 30 Indian instruments on board, including newly additions for added variety and versality. The PSR-I400 also features a variety of instruments such as Pianos and Synthesizers, making it possible to play songs from an impressive variety of genres, from orchestral classics to pop and electronic dance music.

Lesson functions that make learning fun and easy.
The PSR-I400 makes learning to play the keyboard quick and enjoyable, and will continue to be a partner for your musical endeavors for many years. Downloading Song Book gives you instant access up to 115 Songs stored in your onboard library, as well as an invaluable instructional tool that make learning lessons prepared by your teachers easy and fun. With the PSR-I400, you can learn the rhythm and timing first, and then learn the left and right hand parts separately. You can also visit Yamaha MusicSoft online to access more of your favourite Songs and accelerate your progress as a keyboard player. The PSR-I400 even offers a metronome feature for teaching timing and rhythm, as well as a recording function that tracks your mistakes and sharpens up your playing quickly and consistently.

Riyaz—Play along instantly with a versatile traditional Indian rhythm section
The PSR-I400 has a onboard Tabla / Mridangam and Tanpura function called "Riyaz." You or your children can use it for backing rhythms and practice to traditional Indian rhythms for hours. What's more the PSR-I400 now features 20 different patterns of Taals.
*The keyboard shown in this video is the Yamaha PSR-I500. Sounds, content and numbers shown on the instrument interface may differ from the Yamaha PSR-I400.
Yamaha's precise Touch Response keyboard lets you express yourself like a pro
Expression is a key factor in truly mastering keyboard performance. From a light touch to a firm, more aggressive style, the PSR-I400's Touch Response keyboard captures your expression perfectly. Yamaha's Touch Response keyboards have been recognized and certified by the world-famous Trinity Music College of London.

World-renowned Yamaha quality that lasts
Yamaha has a long history of strict quality control after decades of dedication to world class quality and durability. The PSR-I400 is produced in a new Yamaha factory in India that began operations in 2019 using the same quality control guidelines as other Yamaha factories. There, the new PSR has undergone a variety of durability tests ranging from exposure to extreme temperatures and humidity, to dropping the keyboards and pressing the keys aggressively over extended periods of time. As a result, the PSR-I400 is durable enough to sound great for many years to come.

Save time and focus on practice with Registration Memory's stored settings
The Registration Memory function allows users to conveniently recall previously stored settings (Voices/Styles/Effects, etc.) with the push of a button. This is particularly useful for children and beginners when recalling registration files prepared by their teacher, allowing them to start practicing without wasting any time.

Pitch bend wheel for authentic performance
The pitch bend wheel allows you to emulate the note-bending technique that is essential when performing with Indian musical instruments. Try using it to achieve more realistic performances with instruments such as the Sitar, Violin, Saxophone, Mandolin, Bass, Tabla, and Sarod.

Enjoy playing music
Auto accompaniment for adaptable ensemble performances of Indian music.
The PSR-I400's auto accompaniment "Styles" function is invaluable for beginners and more experienced players alike. As you play chords, compatible basslines, rhythm tracks, and other kinds of accompaniment are automatically created and follow along with your performance. The PSR-I400 comes with a variety of accompaniment Styles, including 35 different types of Indian Styles such as newly added modern Indian dance music. By using the Music Database function, you can find perfect combinations of Voices and Styles that will remind you of your favourite movies.

Auto-arpeggio function for inspiring rhythmic patterns and authentic phrasing
The PSR-I400 has an auto-arpeggio function that allows you to play various sequenced dance music patterns, and emulate techniques such as guitar strumming, creating sounds that are not usually produced by a keyboard to add authenticity to your performance.
*The keyboard shown in this video is the Yamaha PSR-I500. Sounds, content and numbers shown on the instrument interface may differ from the Yamaha PSR-I400.
*The PSR-I400 has a different number of arpeggios to the PSR-I500.
The transpose function makes sure you're always singing in the right key!
If you want to enjoy Karaoke with your children using the PSR-I400, but you don't have the vocal range or just prefer a different key for the song, simply use the Transpose function to play in other keys with ease.

Layer instruments to enjoy atmosphere performances
The Dual Voice function allows you to layer two instruments simultaneously, for example using both Piano and Strings, or Bansuri and Xenon Pad together for a dreamy atmospheric feel. Another example of effective use of the dual voice function would be layering Harmonium with String Slap to achieve a more authentic sound. Get creative while you enjoy learning to create beautiful sounds by combining various instruments.
*The keyboard shown in this video is the Yamaha PSR-I500. Sounds, content and numbers shown on the instrument interface may differ from the Yamaha PSR-I400.
The Split function gives you ensemble power
The PSR-I400 features a Split function that lets you divide the keyboard into two sections and assign separate instruments to the lower and upper halves of the keyboard—for example, playing bass and pianos together while singing. Now even beginners can enjoy learning to create powerful ensembles by combining different instrument sounds simultaneously.

Onboard speakers deliver rich, high-quality sound
The PSR-I400 comes equipped with two powerful onboard 2.5-watt speakers that deliver a rich tone and high quality sound.

Play anywhere, anytime
The PSR-I400 runs on batteries making it possible to take and play almost anywhere. Don't forget the battery pack when you're hitting the campsite or your favourite park or beach.

Lightweight, durable design for effortless transport
Light and durable, the PSR-I400 is easy to pack up and ready to hit the road for school performances or recital at a moment's notice.

TECHNICAL SPECIFICATION
 

Dimensions & Weight

Width : 946 mm (37-1/4")
Height : 140 mm (5-1/2")
Depth : 405 mm (15-15/16")
Weight : 6.8 kg (15 lbs., 0 oz.) not including batteries

Control Interface
 

Keyboard

Number of Keys : 61
Type : Organ Style
Touch Response : Yes (Soft, Medium, Hard, Fixed)


Other Controllers 

Pitch Bend : Yes
Control Knobs : Yes (x 2)


Display

Type : LCD
Backlight : Yes
Language : English


Panel

Language : English
 
Voices
Tone Generation

Tone Generating Technology : AWM Stereo Sampling
 

Polyphony

Number of Polyphony (Max.) : 32


Preset

Number of Voices : 764 (225 Panel Voices + 27 Drum/SFX Kits + 46 Arpeggio Voices + 466 XGlite Voices)
Featured Voices : Indian Voice x 30, Sweet! Voice x 5, Cool! Voice x 3


Compatibility

GM : Yes
XGlite : Yes

Effects
Types

Reverb : 9 types
Chorus : 4 types
Master EQ : 6 types


Functions

Dual/Layers : Yes
Split : Yes
Melody Suppressor : Yes (w/ pan adjustment)

Accompaniment Styles
 

Preset

Number of Preset Styles : 218 (Incl. Indian 35 Styles)
Style Control : ACMP ON/OFF, SYNC START, SYNC STOP, START/STOP, INTRO/ENDING/rit., MAIN/AUTO FILL, TRACK ON/OFF
Fingering : Multi finger


Other Features

One Touch Setting (OTS) : Yes
Music Database : 355 (Incl. Indian 50 music)


External Styles

5 Styles
Songs

Preset

Number of Preset Songs : 115 (Incl. 15 Raga Scale Song)


Recording

Number of Songs : 10
Number of Tracks : 6 (5 Melody + 1 Style/Groove Creator)
Data Capacity : Approx. 19,000 notes (when only "melody" tracks are recorded)


Compatible Data Format

Playback : SMF Formats 0 & 1
Recording : Original File Format (SMF 0 conversion function)

Functions
Registration

Number of Buttons : 4 (x 8 banks) with Freeze function

Lesson/Guide

Yamaha Education Suite (Y.E.S.) : Yamaha Education Suite (Y.E.S.6)/ Listening, Timing, Waiting
Lesson/Guide : Lesson 1–3 (Listening, Timing, Waiting), Repeat & Learn, Chord Dictionary


Overall Controls

Metronome : Yes
Tempo Range : 11 - 280
Transpose : -12 to 0, 0 to +12
Tuning : 427.0 - 440.0 - 453.0 Hz (Approx.0.2Hz Increments)


Riyaz (Tabla/Tanpura Pattern)

Preset : 20
Sections : 5


Miscellaneous

PIANO Button : HARMONIUM/PIANO Button


Voices

Harmony/Echo : 26 types
Arpeggio : 152 types

Storage and Connectivity
Storage

Internal Memory : Approx. 1.54 MB
External Drives : USB flash drive


Connectivity

DC IN : 12 V
Headphones : Headphones/Output
Sustain Pedal : Yes
USB TO DEVICE : Yes
USB TO HOST : Yes

Amplifiers and Speakers
| | |
| --- | --- |
| Amplifiers | 2.5 W + 2.5 W |
| Speakers | 12 cm x 2 |
Power Supply
| | |
| --- | --- |
| Power Consumption | 16 W (When using PA-150 AC adaptor) |
| Auto Power Off Function | Yes |
| Power Supply | PA-150B or an equivalent recommended by Yamaha, Six "AA" size alkaline (LR6), manganese (R6) or Ni-MH rechargeable (HR6) batteries |
Accessories
Included Accessories

Music Rest : Yes
Song Book : Download from Yamaha web site
Power Adaptor : Yes